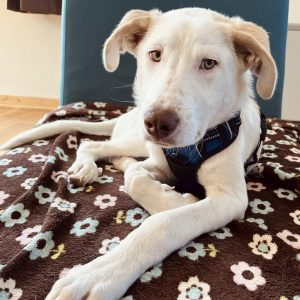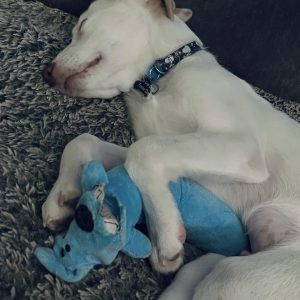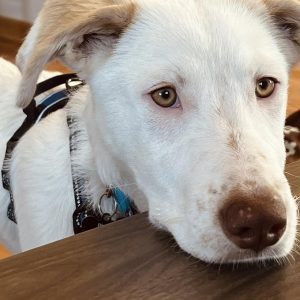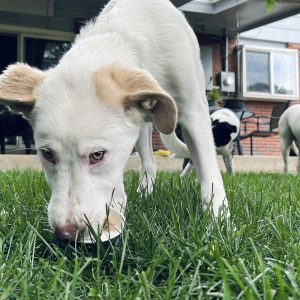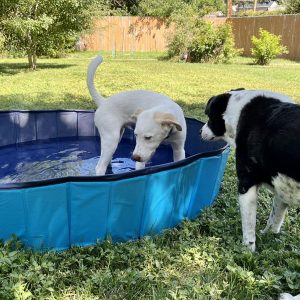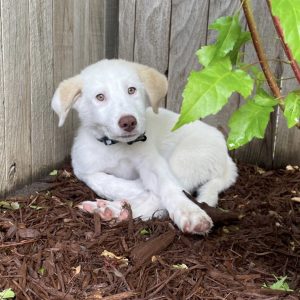 Jo
Breed: Golden/Lab
Size: Medium
Age: Puppy
Hi everyone! My name's Jojo and I had a rough start to my life. I was found on the streets of Clovis, New Mexico, as a young pup with medical issues. But I'm a fighter and I'm doing much better these days! I'm also a lover -- I love everyone and especially my doggy roommates. Did you notice my eyes? My foster mama tells me they are a beautiful gold color and match my ears.
I'm about 5-6 months old now and my foster parents are always commenting about how smart I am. I do know stuff -- I'm potty trained, I sit like a good boy, and I come when I'm called (usually). I'm working on other commands, but I'm still a puppy so I get into some mischief sometimes. For the most part I really want to please my foster family. I can't wait to be a good boy for my forever family!
I like to run, play with other dogs, swim in my baby pool, and eat. Boy do I like to eat! I'm very food-motivated and I'll do just about anything for a treat. I'm pretty good on a leash, too. I like all the smells when we go on walks in the mountains and I'm working on not pulling when I see something I really want to investigate! I'm used to my crate now, and I actually like to go into it myself sometimes because active boys like me do need naps. I LOVE my toys and like to have some in my crate with me. My foster mama says my forever family will be a special one because although I'm better physically, I still struggle sometimes with digestive issues. I'm on special medication and food and it is helping.
Note from foster mama: Jojo is eager to please & would thrive in an active family that is willing to continue to work on his training and help him to continue to improve physically from his prolapsed rectum that we have been working with his vet to help it be resolved with his diet and meds. His adoption fee is $400 to help cover his vetting. He is neutered, microchipped, & up to date on shots.
Fill Out An Adoption Application