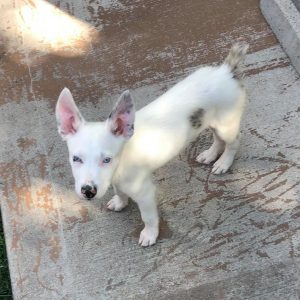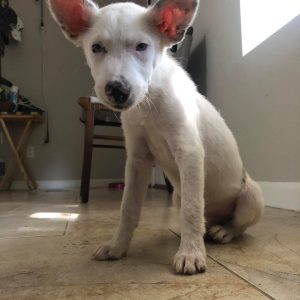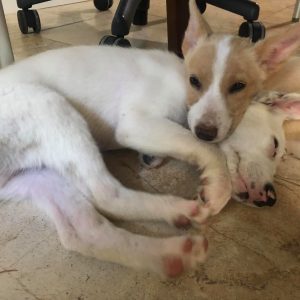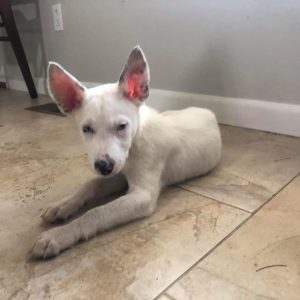 Jasper *DEAF*
Breed: Aussie/Heeler
Size: Medium
Age: Puppy
Hey world! This handsome pup is Jasper! He is the result of an accidental litter from a rural town in New Mexico. He and 3 other siblings were the 'leftovers' after the other 6 were given away! Since no one picked him, he was destined for a parvo-ridden shelter…but with the help of our partners and fosters we got him (and siblings) to safety!
Jasper is now looking for his happily ever after in Colorado! Jasper is confirmed to be DEAF but this does not slow him down! He is still a silly, happy, snuggly pup! An adopter with experience and/or ability to learn how to best support this disability is necessary for success.
Jasper is still working on training as he is just a pup, but will pick it up in no time! He is a total sweet pea and loves everyone he meets. He loves other dogs and kiddos too! Jasper would do best in a home with another dog, so he can learn the ropes from a pup companion. He loves climbing on things - he is frequently trying to climb in laps, on chairs, on top of pillows, over pieces of furniture, etc. He is super smart and curious. He loves running around the yard with his sister, kongs filled with PB, balls that he can chase, and snuggles after bath time! He has a little anxiety when he's not able to see his humans, but with continued patience and love, Jasper will excel.
Jasper will be neutered and is up to date on vaccines. Please complete an adoption application so we can arrange a meet and greet. Adoption fee is $400.
Fill Out An Adoption Application